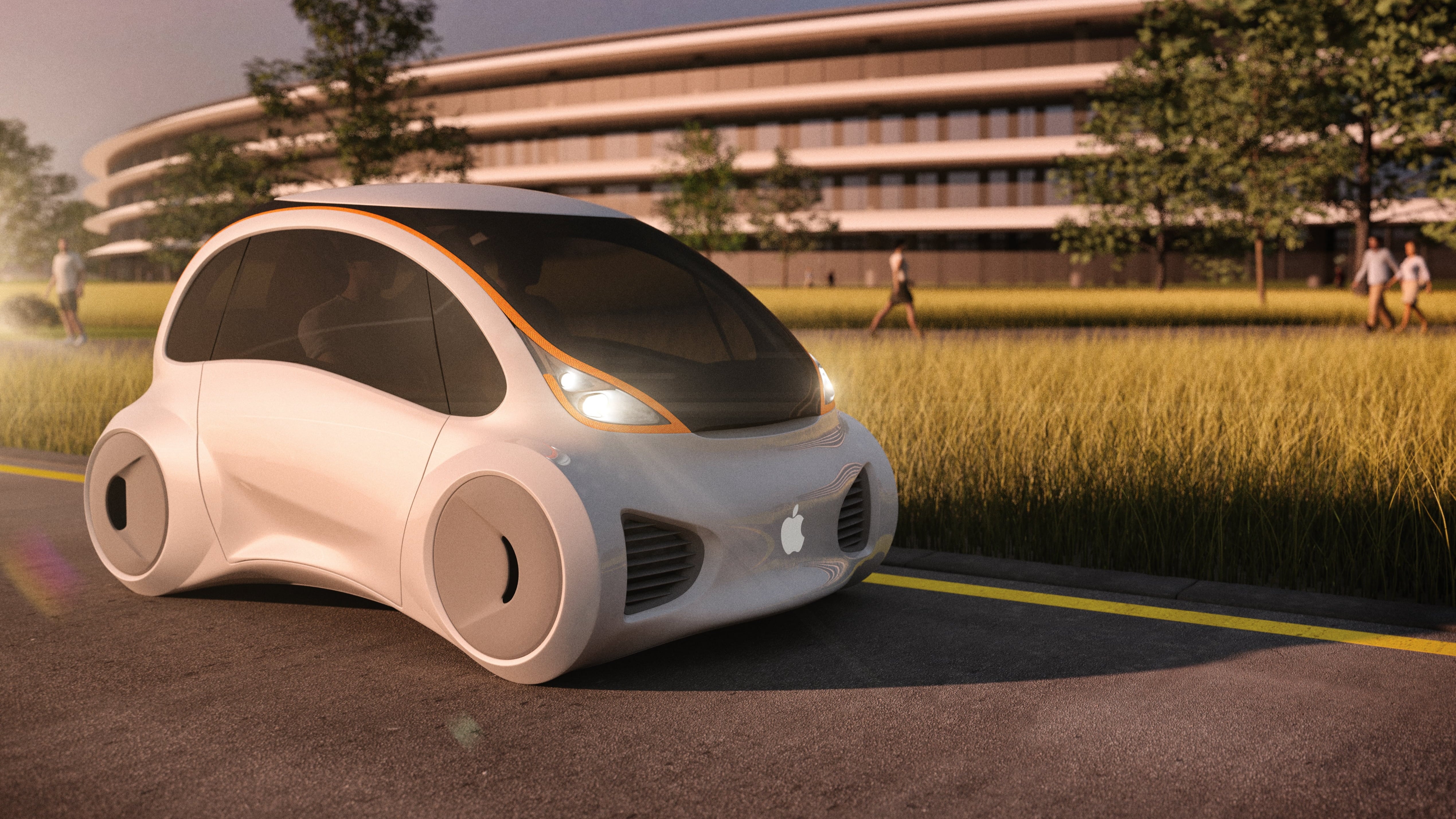 The big boss' company Apple has intrigued us with many of its eye catchy products and services in the past decades, such products like AirTag, Apple TV HD, Apple TV 4K, Apple Watch, Apple Watch SE, HomePod mini, iMac, iPad, iPad Air, iPad mini, iPad Pro, iPhone, iPhone SE, Mac mini, Mac Pro, Mac Studio, MacBook Air, MacBook Pro and the list goes down to number infinity. While so many of us can't afford the leisure of Apple products, most people who can afford them are really getting obsessed with them, truth be told, Apple knows how to bring the "A" game to the party.
But we've known this company to develop all the fancy smart devices but we never saw an Apple car coming. If you did, I really never thought that there is a chance they can pull off a gig such as a car.
This whole story about Apple constructing a car began sometime in 2014 when they launched a project with the code name "Project Titan" These project was rumored to be publicized by the year 2020, well you can agree with me that we never saw it come to pass, as long as I'm concerned the only project that was launched in the year 2020 was "Sit at Home, Covid-19 is outside"; and it was not an Apple project.
Apple is a company that derives joy in surprising the public; we knew they had something cooking when they were supposedly testing a self-driving technology in some of the American States. When we heard that Tim Cook and his crew were hiring the services of engineers from companies like Tesla, Mercedes, It was then we knew that whatever Tim Cook is cooking is beyond the confinement of smart phones and smart watches, it must be something that runs on wheels. The company also went for Ukjashevic who happened to be an automaker, the 31 year old was famous for most of the developments on the Ford vehicle which include the interior works and also the electrical systems. when approached Tim Cook never had much to say about the product but we already know how calm and taciturn the company acts when its products have not achieved realization He only mentioned that the automotive industry was gradually drawing the attention of the company and he seemingly suggested that if the company decides to venture into the design of cars, it won't just be a regular car on the streets. "We love to integrate hardware, software and services, and find the intersection points of those because we think that's where the magic occurs. And that's what we love to do and we love to own the primary technology that is around that"; words from one of the Apple Bosses Tim Cook.
SOME FEATURES TO EXPECT IN THE APPLE CAR
It's one certainty that this car would be a thriller in time, I tip it to stand out as a king in the kingdom of automotives when it eventually hits the roads, because I can place my money on Apple, they will surely pull off this wonder. The full details pertaining to the overall features of this car is short of supply but we will be giving you all the information we have and also that which we anticipate. Although when the car launches at last it might exceed our description because Apple as a company is a force to reckon with.
Hold on, you don't expect apple to build you a car that will give you the stress of driving it; No, not at all, the car won't be your petrol driven car, it won't even be the Tesla electric car, Apple car will be designed to do all the driving and Traffic maneuvers for you while you relax and enjoy the luxurious wonder of the twenty and first century. The car will make use of a design called LiDAR sensors. LiDAR stands for Light Detection and Ranging. We all know Apple to have integrated this same sensor in its I-Phones, I-Pads, Pros and all that, so we won't be surprised to see the same program coming to play in its cars.. LiDAr will make the car visualize the world around it, this is due to its working mechanism, it works by sending out what we call pulsed lasers. These lasers when sent out will be reflected back to the car's sensors as it hits objects, and using the information, it can then form a picture of what objects are found in its surroundings and how far those objects are located from the car. We may guarantee that the car will be an autonomous driving car but one fact we can't state for sure is whether it will have dual operation, that is if the autonomy will be limited or if it will be completely autonomous without any human intervention.; In such a case you will enter the car and sleep until the car arrives at your destination to wake you up. Apple one time in its quest to ensure the car's autonomous nature was reported to have drawn a partnership with South Korean company, the Company would be developing chips for the autonomous driving system.Certainly the aim of Apple Company is to design a 'hands-off' driving experience that wouldn't have any ability for a human driver to control the car. A level 5 autonomous system in other words. With this in mind the company has been reportedly hiring engineers from several countries to test and develop safety features that would enable such a system to be allowed on the roads. Apple is also said to be looking for software engineers who would develop "experiences for human interaction with autonomous technology," hence focusing on the interior car experience. We are all aware that not driving in a car can be boring so people need something to do since the car is doing the driving.
It's yet to be ascertained relative to its autonomous feature, if the car would be a ride for one to own and stash away in his garage only to hit the roads to show off to the word or it will be an Uber drive that can be flagged down on the road and boarded for an interview. Either ways, we will soon find out.
The apple car is likely to have no steering wheel, if that be the case, then the user might have no interest on viewing the roads unless he wishes(like we previously mentioned that we cannot at present state factually the level of autonomy this sleek car will come with). If you don't have business driving then you need a larger space to get yourself comfortable and occupied. A report at Bloomberg by Mark Grman suggests that the company has been playing around with the concept of having a seating arrangement where the passengers can face each other; like a lounging seating arrangement, same setup as we saw in electric cars. The backseat of the car will be having a unique style of luxury, since the driver at the front seat won't be handling a steering, hence the front seat could be made to spin so its occupant can stretch his/her legs thereby facing everyone seated behind all at once and not even a review mirror is required. Never forget apple was given the patent in January, 2022 for a vehicle seat with a reclining mechanism
Expect to see a large display between the two front seats of a new car to help with navigation, music playback, vehicle controls, etc. As you might have guessed, one rumor is the display in this car will resemble an iPad.
It might be an iPad in every way but name. It'll most likely run a modified version of iPadOS with Apple Maps, Apple Music, Siri, etc., and will work familiarly but have vehicle-specific toggles.
In the (not so distant?) future, Apple's car might even include a detachable infotainment device so the driver can still access climate control, music, etc. when they swivel the chair around.
The Apple Car is going to need to have a fair bit of computing power behind it, and a report suggests that it could all come from a "C1" chip and will pack in AI-centric features.
Apple will be developing its most advanced chips for use in the Apple Car. The chip is said to be mostly formed of neural processors to power all the AI algorithms the car will need if it really will drive itself.
Also there's a claim that Apple will be focusing on the interior design, since the Apple Car is supposed to be 'hands-off', and that includes both an infotainment system and integration with Apple's existing suite of services.
What really sets the Apple Car apart, from what we've heard, is its monocell battery technology. According to reports, this maximizes the size of the cells inside the Apple Car's battery pack, which means it theoretically gets a longer range out of a single charge.
Reports also claim Apple is also set to use lithium iron phosphate in its batteries, rather than the usual lithium-ion solution, which is less likely to overheat. That should, in turn, make the car much safer.
A new patent also revealed the first piece of information of a possible design. The Apple Car may come with a system offering "variable opacity" which, like Mercedes' Magic Sky, lets the driver control how much light comes through the roof. The patent also mentions that this roof is retractable, which Mercedes' is not, and can retract as the side windows are opened.
THE RELEASE DATE OF SLEEK APPLE CAR
Let state for clarity that the product has not been launched as at the time of writing this blog and there may be a few more years to wait until it is unveiled to the public for the first time.
Reports from 2016 suggested Apple was aiming for a 2020 rollout, but many issues came up which we believe to have brought about the delay one being the exit of Steve Zadesky the project leader.
By leveraging "potentially huge" replacement demands emerging in the sector due to the introduction of new technologies, Kuo believes Apple can take advantage of a car market that is ripe for change, in a similar way to how the smartphone market existed before the iPhone.
Reports in late 2020 indicate Apple may be ahead of schedule and a product may be ready by 2024. It could feature a radical new battery design that would reduce cost and extend driving range.
Ming-Chi Kuo has stated that a release is unlikely before 2025, that most rumors about a launch prior to that have been "overhyped." Given that there have been no manufacturers selected, TF Securities estimates that if "everything goes well" a launch between 2025 and 2027 is likely.
Hyundai has confirmed that Apple has approached it and other companies about producing the Apple Car. Such advanced talks are normal and indicate Apple is ready to begin production in the coming months. The same report indicates that despite starting production, the car will not be ready to launch for years yet — 2024 at the earliest, though 2027 seems to be more realistic.
To keep from diluting the Hyundai brand, it may assign subsidiary Kia to manufacture the Apple Car. Kia's plant in Georgia would be a primary location.
Hyundai later revealed that the discussions with Apple had ended before February 2021. Nissan has since approached Apple with interest in manufacturing the Apple car.
Apple is expected to build a "beta" version of the "Apple Car" by 2022 then order 100,000 for production in 2024. Rumors point to Japan for initial manufacturing; even with global part shortages Apple is still targeting 2024.
I wouldn't say that I am not anticipating the thrills and awesomeness with which this car is going to come with, but the price at launch would be something to dread. Regardless we will keep our hands folded as we await what might be the crown winner in the automotive industry "Apple Car"
If you have other features you anticipate this car to come with, we will like you to share your thoughts in the comment box below.