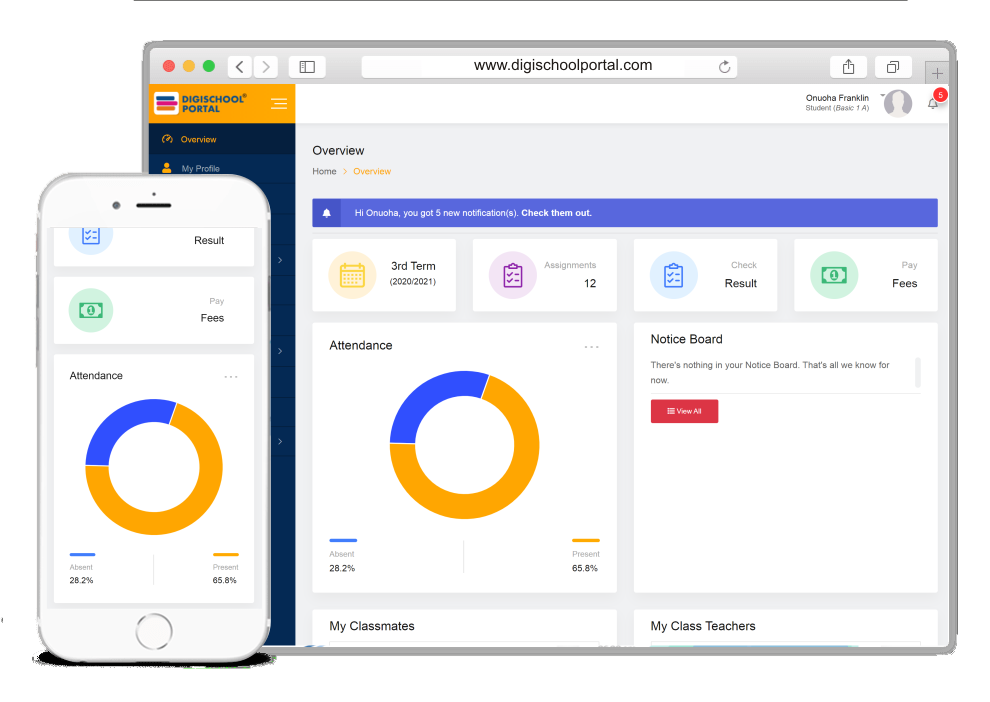 Top 9 Reasons: Importance of having School Management Software for your School
February 18, 2021

Onuoha Franklin

DigiSchool Portal, Education, School Management System,
Finding an efficient, secured, reliable, trusted, and affordable School Management System that completely meets your school/business needs/requirements is not that simple. But you need to know that to be able to find them, you have to define your goals and have a clear picture of what and why you wanted it.
In this article, we'll talk about the importance of School Management System (SMS). Today, in every educational institution, the School Management System (SMS) has always been of great importance. It's main purpose is ease the task of school administrators, teachers & staffs, manage school's interaction with the students & parents.
In a nutshell, it makes the communication between the three parties most effective.
There are so many reasons why you need a School Management System, but we'll list a just few of them (the most important). Find the following importance below:
1) Simplified Online Fees Payment.
This feature is a very effective method because it minimizes late fee issues. With School Management Systems, an effortless fees payment is guaranteed. Parents or students who queue to get a turn to pay the school fees at any bank or at the School (in every resumption of the school term/session) will now be allowed to directly pay on your school websites, generate instant invoice & receipts easily without visiting the school or banks.
Online fees payment are faster and easier (even instantly issuing invoice and receipts), compared to other payment channels.
2) Exam Management
School Management System can help you manage examination. Teachers can conduct the examinations within the platform or outside the platform. In case examinations aren't conducted in the system, teachers can even grade and post the result in the system. It also provides report generation which calculates all aspects of grading automatically.
3) Admission of Students
School Management Systems are most important because it also helps the school administration manage data (including prospective students) and reduce the bunch of files and paper used. The students personal information and academic records are securely stored in a database for future accessibility from the students. Additionally, errors caused by human error or duplication would also be avoided.
4) Effective Homework Management
With this very feature in School Management Systems, students can download, upload or submit an assignment or homework, notes & project work. Another great importance of this feature is that school administrators, teachers & staffs, students & parents, can easily refer to old documents easily, for study or other purposes.
5) Management of Staffs
The School Management System should provide an effective way to manage staffs and their tasks. This may include attendance management, salary and compensation calculation, leaves management, and many more. It also enables the management to pay the staffs' salary within the system just in a few clicks.
6) Attendance Recording
Nowadays, using pen & paper for attendance record is stressful, not encouraging and in fact old school. School Management Systems allows you to create attendance report for class. Students attendance can be record live on the Software.
This feature is among the main features of School Management System.
7) Tracking School Vehicle
School Management System provides you can essential way by which you can monitor the route of the school vehicles (cars or buses), the odometer, and can even schedule maintenance for the vehicle. With School Bus tracking in a School Management System, staffs can seamlessly manage the vehicle, and mostly importantly, it boosts parent's confidence in the school in terms of the safety of their children.
8) Communication
School Management System provides an effective way to connect students, teacher, parents & school administrators. It can automatically send SMS, emails, or specific notifications regarding the activities in the school to the individuals concerned.
9) Access to Parents
School Management System connects school and parents directly. It could inform the parents about the development and students' learning progress because it may be difficult for parents to gradually check their kids' progress in the school in other to stay connected to their child's academic achievement.
This information is made available on the software at any time, which may include: students' performance to their on-going pr Account Security ojects or assignments, attendance, etc.
In Conclusion:
The School Management System is important because it is an excellent way to systematically manage schools, colleges and various educational institutions thereby can help a school ease its processes.
If you already use one and aren't satisfied with it or you don't use any, then consider to signup for a free trial account on DigiSchool Portal to see how it system works.
---