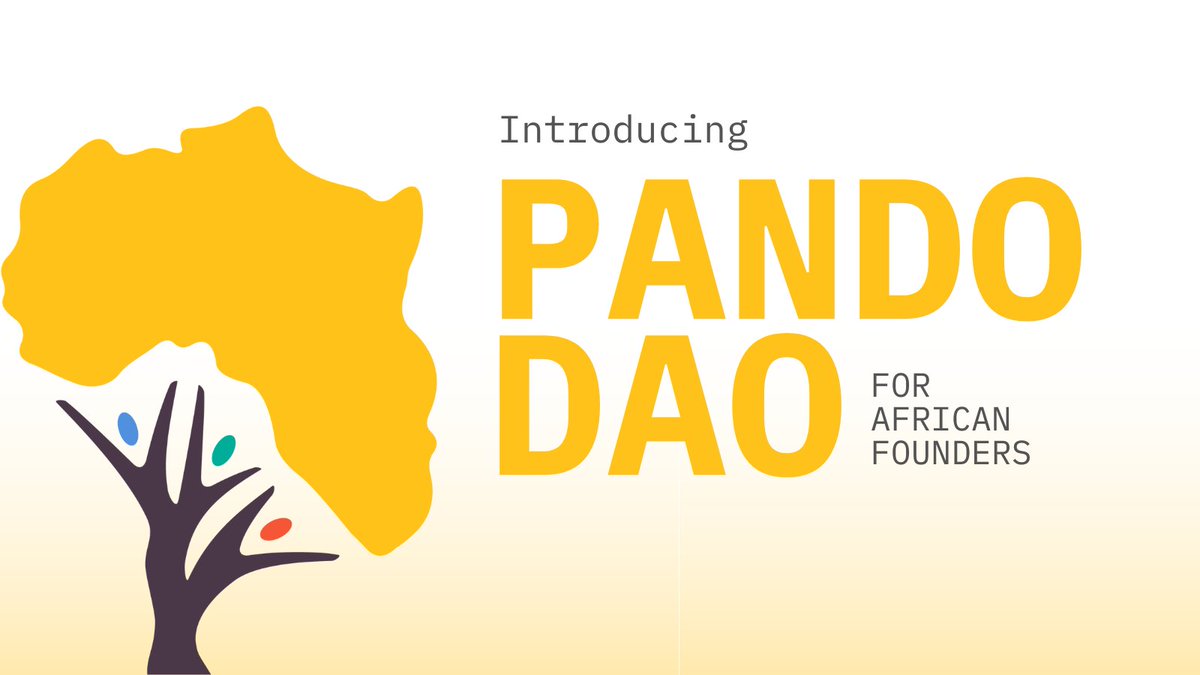 Africa to experience tech transformation with the recent Pando Dao Project
Pando Dao project Africa
Africa has become a landing ground for foreign tech investors in recent times. These past few years have seen billions of dollars pumped into African tech communities by various silicon investors.
The question remains, why is Africa still on the backline in this tech transformation rampage?
Related: Google Will Start Accepting Crypto Payments
Before Pando Dao Project Africa
Prior to the announcement of this Pando Dao project which we will talk about in a jiffy, why have tech investments failed in the continent of Africa in the recent past?
Despite the steady inflow of money into the continent's tech structure, there is still little to show for it.
Africa received $5.2 billion in funding across 650 transactions, last year startups continue to fail due to a lack of finance, mentoring, and a strong network of support.
According to the 2020 Better Africa study, 54% of African companies that were established between 2010 and 2018 failed.
Related: A Recent Privacy Risk That All TikTok Users Must Be Aware Of
Some African tech startups that have failed and why
MallforAfrica: the Nigerian e-commerce startup owned by Chris Folayan was founded in 2011. According to Folayan Mailforafrica aimed at addressing the hitches Africans face when they shop on eCommerce platforms.
For almost 10 years the company functioned even to a point that it was recognized by the Cable News Network. In the year 2021, the company collapsed due to the instability in foreign exchange and the depreciation of Nigerian currency coupled with unnecessary policies in the country.
Wabona: Simbarashe Mabasha and Simukayi Mukuna, two South Africans, established Wabona in 2012. It was one of several companies striving to make video-on-demand a viable business in Africa.
However, the firm was forced to close in August 2015 owing to a lack of follow-on financing and "uncertainty in the African video-on-demand (VoD) sector."
"African VoD providers are still striving to establish the optimal business model, and there is a platform bubble," says Simbarashe Mabasha. It became difficult for us to obtain long-term finance in this type of operational climate."
Bkam: The Egyptian-startup company was founded by Mahmoud Abdel-Fattah in October 2012. The firm was one of the earliest price comparison websites in Egypt, the Middle East, and North Africa. Initially, the corporation prospered and extended into Saudi Arabia and the United Arab Emirates.
Financing was plentiful in the beginning. Jabbar Internet Group, angel investor Ahmed Osman, and others contributed to the company's growth. In addition, other firms joined the ranks, including Egypt's Yaoota and Dubai's Pricena.
The firm ran out of funding in February 2016 and had to close its doors. In an interview with the then-CEO, Mahmoud, he stated that he had to close his company because money, which had looked to be simple to get by at first, had become difficult to come by.
"An investor pledged $500,000 and kept requesting paperwork for over four months while we ceased fundraising from other investors," he explained. During those four
months, I spent all of the company's money as well as my own. Then he vanished. Egypt's e-commerce was collapsing, making it difficult to recover rapidly."
Efritin: Efritin, a used products e-commerce site, was created in 2015. The initiative was founded with the help of the Swedish company Saltside Technologies. However, it terminated operations in 2017.
Nils Hammer, the parent company's CEO, was in charge of the startup's activities in Nigeria. According to him, Efritin halted operations in response to worries about poor internet penetration and adoption, high data prices, and Nigeria's difficult economic conditions.
However, Uche Ajene, a former Efritin marketing manager, blamed the company's failure on Zakaria Hersi, the company's previous boss. Ajene accused him of stealing, encouraging internal mismanagement, and forging invoice trails to conceal his crimes.
There are more failed tech projects in Africa than we can count, but since this article is not about failed tech projects let's discuss Pando Dao Project Africa.
Related: The Wild Adoption of Digital Banking in Nigeria
What is the Pando Dao Project Africa?
Pando DAO is a decentralized autonomous organization tasked with growing the African digital sector.
The community's founding members include over 50 African founders and early builders, including mPharma, Wasoko, Pariti, SunCulture, Africa Health Holdings, Stitch, Marketforce, 54Gene, Mara, VertoFX, Turaco, Raise, Carry1st, Jetstream, and others.
Pando Dao project Africa is currently partnering with Silicon Zanzibar. Their goal is to support the Tanzanian government hence creating a structure that supports digital innovation in Zanzibar.
These entrepreneurs collectively represent firms worth more than $2 billion and have raised more than $500 million in cash. Over 10,000 people are employed by Pando member enterprises in 15 African nations.
One significant initiative is a venture capital fund for African early-stage technology businesses, which will use its members' experience and network and return cash to them.
Related: MTN flags off operation 5G Network in Nigeria
What will be the impact of Pando Dao Project Africa?
One thing we are likely to see in this collaboration is a sudden forward drive in Africa's tech ecosystem.
There is a chance of Zanzibar Tanzania becoming the next silicon valley as a result of this collaboration. From there, the wildfire of tech transformation will spread all over the African continent.
"We are thrilled to be partnering with the government of Zanzibar on this initiative. We believe that through this partnership, we will be able to drive the tech ecosystem in Africa forward, with Zanzibar serving as a key part of that story by attracting tech companies and talent and also developing homegrown companies and talent as well."; words according to the CEO and co-founder at Pariti and a founding member of Pando DAO who spoke at the launch.
Mudrick Soraga who is Zanzibar's Minister of Investment and Economic Development didn't hide his elation.
While speaking, he appreciated the investors who took the leap to liberate Africa from tech backwardness hence pledging to work side by side with the leading players in the African tech ecosystem.
Related:iPhones are now under high-security threats
Frequently Asked Questions (FAQs)
Question 1: Is Pando Dao Project going to be in all African countries?
Answer: The project will start its structure in Tanzania but its impact will be felt all over Africa.
Question 2: How many tech firms are the founding fathers of Pando Dao Project Africa?
Answer: Currently the founding fathers of Pando Dao Project Africa are 50 firms.
Question 3: How will the Pando Dao Project impact Africa?
Answer: In the same way technological invasion impacts a location; Africa will likely be liberated from tech backwardness.
Conclusion
It is true that most of the tech innovations in the continent in the past decades hit the wall. But Pando Dao Project Africa has the potential of solving the problems those problems that keep this country in the dark spot of technology. Maybe in the future, we will see robotic industries and such alike in the continent of Africa, but till then we will wait to see how this project kicks off and its effect in the early stages.
Reference
techcabal.com -Zanzibar bets on e-commerce to make it the next tech valley
Recommendations