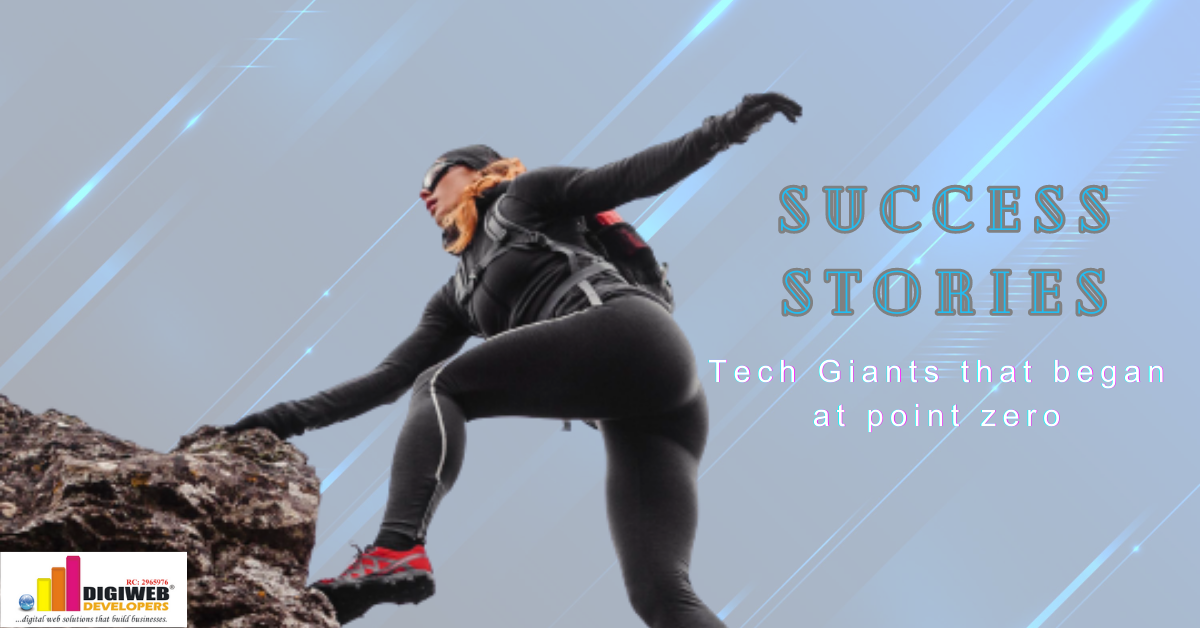 Success Stories: Tech Giants that began at point zero
The path to success is not always as good as the roads of Florida and Tennessee. It's one hell of a bumpy ride.
Looking at the giant companies in tech today and how they started, it gives you the idea that there is still a way out of the very dark tunnel.
Today, we take a cursory journey to narrate very short stories of how some tech giants rose from zero to hero.
The blog x-rays the low points, the decisions, the way up the ladder and finally the moral lesson to draw from today's giants who were dwarfs of yesterday.
ICYMI:Artificial Intelligence Invasion: Is it Time to Get Worried?
Mark Zuckerberg's Facebook
There in the dorm room in 2004, Harvard's 18-year-old Mark invented Facebook to match the names and photos of classmates. Mark called this tiny project "TheFacebook".
Initially this network was exclusively meant for Harvard's students, but as days turned into months and years, the app created in just one room gained much popularity and eventually expanded to other universities.
The sudden wild acceptance of "TheFacebook was due to the very friendly interface and how appealing this app was to young people in college. TheFacebook turned to the go-to platform for college students to interact and share updates.
When Mark understood the potential of his invention, he dropped out of Harvard and relocated to Silicon Valley in California. It was then that he decided to change its name from "TheFacebook" to Just "Facebook".
2006 saw the platform Facebook opening its doors and allowing anyone that has a phone number to own an account.
As his company expanded, he acquired platforms such as WhatsApp and Instagram. Today the company Facebook now answers Meta as it has incorporated cooler features than we envisaged.
Facebook now called Meta is worth about 600 billion USD, and it can boast of having billions of users around the globe.
From that dorm room, Facebook rose to become a life changing app, a tech titan that has changed communication and interaction in the 21st century.
It gives a clue of how a little business can turn into a multinational cum multidimensional investment if the business owner knows when to pull some plugs and how to make necessary expansions.
ICYMI:Programming Concepts Every Entrepreneur Needs to Understand to Succeed in Business
Steve Jobs' Apple
Two college dropouts in the year 1976 named Steve Jobs and Wozniak choose an old garage, converted it to a workshop; through brainstorming, they developed a revolutionary computer. There in that old garage they envisioned a future where sleek computers would be available for all and this led to their founding Apple computers.
Not 1976, but 1977 marked a significant turning point for Apple. That was when they launched the Apple II and this product became a commercial success.
The characteristic user-friendly design and graphical interface caught the attraction of a wider range of audiences.
Despite the significant milestone crossed by Apple, they were about to face their greatest fear. In 1980, an internal conflict and the ruse of power struggle rocked the smooth sail of this great organization. This power conflict ended up forcing Steve Jobs to leave his own company.
The exit of Steve Jobs from Apple was followed by a period of struggles and low points. It became a problem for them to compete with the growing tech rivalry.
Amidst this struggle that nearly ruined the company, Apple made a strategic decision that is purchasing Steve Jobs company NeXT. This acquisition of Next saw the visionary Steve Job returning to Apple and sparked a renaissance for the company.
Steve's return transformed Apple and their true breakout moment was in 2007 when iPhone hit the market. From there they began pushing beyond boundaries with products like iPads Apple Watches and MacBooks.
One thing that made Apple stand out is their pursuit for excellence and their ability to create products that blend with simplicity and innovation. Apple's commitment to seamless integration between hardware and software built an ecosystem that alluring to its customers.
From Apple's story, we learn a clear lesson, perseverance, clear vision and relentless pursuit of excellence propels a business from zero to hero. By staying focused and delivering top class products, businesses can overcome obstacles and create a lasting impact in their industries, just like Apple.
ICYMI:The Power of Gamification in Education: How Video Games are Changing the Game
Jeff Bezos' Amazon
It was in 1994 when Jeff Bezos started a very small bookstore in his garage, which he named Amazon. Hardly did he know that this tiny venture was on a course to becoming an e-commerce store that will redefine shopping in this century.
In the early years of Amazon, the company faced a number of challenges. Initially, Amazon operated at a loss because its focus was on expansion and building a solid customer base. That notwithstanding, Bezos was focused on creating an online market where customers could find whatsoever be their need from the comfort of their 84 by 40 inches couch.
In 1977, Amazon made a strategic decision which was a game changer to the company's trajectory. They decided to go public, raising a capital to fuel its growth. Despite the innumerable skepticism from investors and competitors alike, Bezos remained steadfast in his belief that Amazon would one day become an online retail powerhouse.
Jeff Bozos breakthrough moment was in the year 1990 when he launched Amazon Prime. Amazon Prime is a subscription service that offered free two-day shipping on eligible items.
This altruistic service did not only exponentially increase customer's loyalty, but also set the stage for Amazon's expansion into other product categories and services.
As years turned into many years, Amazon introduced Kindle e-reader in 2007 which revolutionized digital reading.
However, as usual it wasn't a smooth ride along for Amazon, in the year 2000, the dot-com bubble burst that affected many internet based companies also delved a blow on Amazon. The company experienced its lowest stock price during this period, and this situation raised concerns about their long-term viability.
Jeff Bezos was never backing down, instead of throwing in the towel he expanded his catalog, improved customer experiences and integrated technological advancements. They made acquisitions like Zappos and Whole Foods Market, hence diversifying their offerings and market reach.
Today Amazon has become the go-to place when you think of online shopping, not only that, the company's influence extends beyond retail with ventures such as Amazon Prime Video, Amazon Echo and Alexia.
One out of the many moral lessons to draw from Bezos' story is that customer focus, adaptability and willingness to take risks can propel a business from zero to hero. Oh! Less I forget, embracing technological innovation can tip the market dynamics n your favor.
ICYMI: Experiencing Africa Virtually: The Rise of 5G-Powered Virtual Reality
Larry Page and Sergey Brin's Google
1988, two Stanford students Larry Page and Sergey Brin envisioned to organize the vast amount of data available on the internet. They embarked on a journey to revolutionize the way we search for information.
In its early days, Google faced challenges in the crowded market, which was dominated by giants like AltaVista and Yahoo.
In the pool of these challenges, Larry Page and Sergey Brin had a master plan; they believed that the relevance of a webpage should be determined by analyzing links from reputable resources ; this belief fueled their page rank algorithm, which set them apart.
Securing its significant investment in the year 1999, they established their headquarters in Menlo Park, California. This humble beginning was the start of a remarkable ascension.
Google's breakout moment came in 2004 when they conducted their Initial Public Offering (IPO). This was the beginning of a significant milestone, enabling them to raise a capital and attract more investors.
With IPO funds, Google continued to expand its services. They introduced products like Google Maps, Gmail, and Google News and these products became crucial parts that determine people's lives.
There were privacy concerns in Google, legal battles, copyright issues, however the company persevered and lined out strategies to combat these challenges.
Today this same Google has become the world's technology powerhouse offering products like Google Cloud, YouTube, Google Home and many more.
What do we learn from the very last story in our success story compilation? Perseverance, innovation, and customer-centric approach can propel a business from point-A to point-Success.
At every point in your business journey, stay focused on providing value, embrace new technologies, adapt to change, then you can carve your business path to success.
Conclusion
The journey from zero to hero is not very easy in businesses, it takes a lot more to ride along. But if you put in the work, the energy and adopt changes when required then we will tell your stories one day.
Recommendations