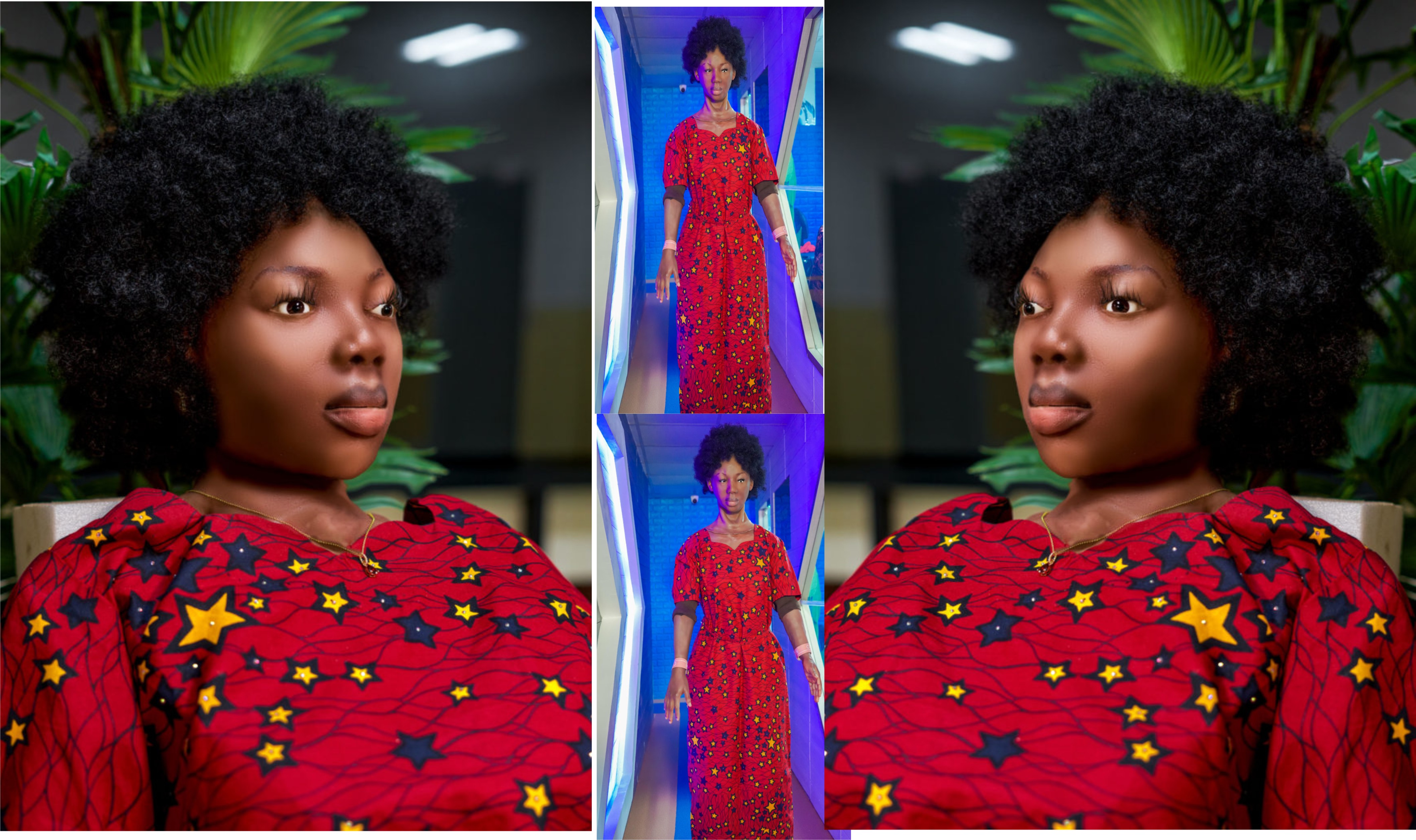 Africa, are you ready? | Here comes Omeife Africa's first Humanoid
Perhaps you are in the category of people that ask the question "Can anything good come out of Africa?". I think your ideology about Africa will change when you meet Omeife Africa's first humanoid.
We have all the answers to your question about Omeife Africa's first humanoid. Who is Omeife and what are her abilities? What is Omeife made of and which Company is responsible for creating Omeife Africa's first humanoid?
The answers to these questions and many more are the highlights of this all-interesting article. Join me and let's go.
Related: Africa to experience tech transformation with the recent Pando Dao Project
Who is Omeife Arica's First Humanoid
I'm sure you've met Optimus, Tesla's humanoid. You also see robotic and AI machines on your night screens. You were probably thinking that such won't come near the shores of Africa. Voila! Here comes Omeife Africa's first Humanoid.
Omeife is a 6-foot-tall female African humanoid that offers linguistic services to enterprises that seek to incorporate native African audiences.
Omeife takes the resemblance of a female Igbo character. Igbo is one of the three most popular ethnic groups in Nigeria. She is powered by sophisticated artificial intelligence algorithms developed in-house by the company's team of scientists.
Related:Google Will Start Accepting Crypto Payments
Which Company developed Omeife?
The novel innovation Omeife is a product of Uniccorngroup. The company unicorn Group is now 2 years old and it is domiciled somewhere in Mabushi, Nigeria, a crossroads region between the inner and outer districts of Abuja.
They are major players in general technology (Cybersecurity, Artificial Intelligence, Software Development, STEM, Marketplace, IoT, FINTECH, ROBOTICS, NFT, and Metaverse). They have implemented cutting-edge technology in all of the above areas.
Their Team of STEM Researchers and Engineers operates from a world-class laboratory. Uniccongroup researches what matters and same what is relevant. They also provide references to their projects on demand.
Despite their numerous contribution towards the growth of technology in the regions of Africa, their greatest achievement is no doubt Omeife Arica's First Humanoid. CHUKS EKWUEME is currently the C.E.O of this tech-invading organization.
Related: A Recent Privacy Risk That All TikTok Users Must Be Aware Of
What are the abilities of Omeife?
If I understand the Igbo dialect so well, Omeife means "a doer of things". Here are the many abilities of Omeife.
Communication: Omeife exceeds what we ever imagine will be feasible in the regions of Africa.
Omeife Africa's first humanoid is multilingual. The Igbo female character Omeife can speak and understand eight different languages. The languages include of course Igbo, English, French, Arabic, Kiswahili, pidgin, Afrikaans, and Wazobia.
The most interesting part is that this humanoid speaks these languages using the native pitch of the people. She is so intelligent; her listening ability focuses on specific conversations as they happen. Her pronunciation of words, sentences, and phrases is so real and spectacular.
Also embedded in her software is the ability to make the right choice of words, she is very polite in expression. This quality makes her conversationally friendly.
Note that her expression aligns with the language she chooses to speak. If she changes from the Igbo language to french then her expression will change from following the Igbo cultural routine to French culture.
Omeife interacts also with smiles and other gestures that will guarantee flow in her conversation. If you say something funny, then you can watch the humanoid give a warm smile
Omeife is not a rigid design; she can improve her conversation, recall an old conversation and also engage in a new conversation. As I said; Omeife Africa's first humanoid is the best that exists at present in the wide and beautiful continent of Africa.
Vision: Her vision is exceptional, she doesn't run into you while walking, and she can detect objects lying on her path and avoid them.
She pays close attention to human facial expressions hence understanding their communications better. Africa's first humanoid Omeife makes calculations of distant objects she sights.
Mobility: Omeife understands the terrain and her footing on the ground. This helps her navigate through non-flat surfaces and at the same time retain her balance.
This humanoid utilizes GPS to determine its location and State-management to determine if it is standing, walking, chatting, and so on.
She makes facial expressions, hand representations, smiles, and other physical movements while speaking.
In addition, Omeife Africa's first humanoid understands form and grasps items with one's hand.
Related:The Wild Adoption of Digital Banking in Nigeria
What is the Future Of Omeife Africa's First Humanoid?
With Omeife leading the queue in this Africa's journey toward technological invasion. We're still asking; will Omeife undergo an upgrade in the nearest future or will she give way to a new army of African robots?
It's difficult to say, but since most of the materials used in creating Omeife are gotten locally, there is a chance we will see other robots from the uniccorn group.
Moreover talking about omeife's future, a closer look at her skin is not totally appealing. It's not as beautiful as the popular Sophia humanoid of Hanson Robotics.
This shows that the group still has work to do in upgrading it. Maybe there will be further work on its aesthetic appearance. They can also improve her physicality by making her strong enough to do some lifting.
Related: MTN flags off operation 5G Network in Nigeria
Will Unicorn Group Commercialize Omeife?
According to CEO CHuks Ekwueme, Uniccon Group is hoping to improve the humanoid to the point where it can be mass-produced and sold for $30,000 and higher.
Because there aren't many robot mass-production firms in the world right now, mass-manufacturing and selling for such a high price might be a long shot.
It may also take some time for the world to accept the commercialization of an African-made robot, as opposed to those from other robotic companies like Tesla that have been in the game for decades.
If things work out right, then Omeife Africa's first humanoid may have a higher market value than the likes of Tesla's Optimus.
Related:iPhones are now under high security threats
Frequently Asked Questions
Question 1: Is Omeife Africa's first humanoid?
Answer: Omeife was not the first robot to be built in Africa. But it takes the title of Africa's first humanoid because most of the materials used in building it were sourced locally.
Question 2: Which company is responsible for building Omeife?
Answer: Omeife is a product of Uniccorn Group. A two-year-old firm in Nigeria that deals in robotics, metaverse, and many more.
Question 3: How many languages can Omeife speak?
Answer: Presently, Omife's algorithm can only speak eight languages. These languages include English, French, Arabic, Kiswahili, Pidgin, Wazobia, Afrikaans, and of course, Igbo.
Question 4: can Omeife display frowning?
Answer: No Omeife can't show the frowning Emotion. According to the C.E.O Ekwueme Chucks, frowning is not in her software algorithm.
Question 5: How much will Omeife be sold in the commercial market?
Answer: Presently, Africa's first humanoid Omeife is not being sold. But If things work out well for the company which I know they will. It will come to the point where it can be mass-produced and sold for $30,000 and higher.
In Summary
Creating a humanoid is just the beginning for Ekwueme and his colleagues; gaining worldwide acceptance and adoption will be more difficult. However, willpower is essential while creating in an unfamiliar land. It works for Musk, and it could work for Ekwueme as well.
Moreover, this daring company has succeeded in placing this great continent in the spotlight. This is a glimpse towards the brighter side. It is a challenge for firms to take up the challenge and drive the beautiful continent of Africa to that admirable techy future.
Recommendations